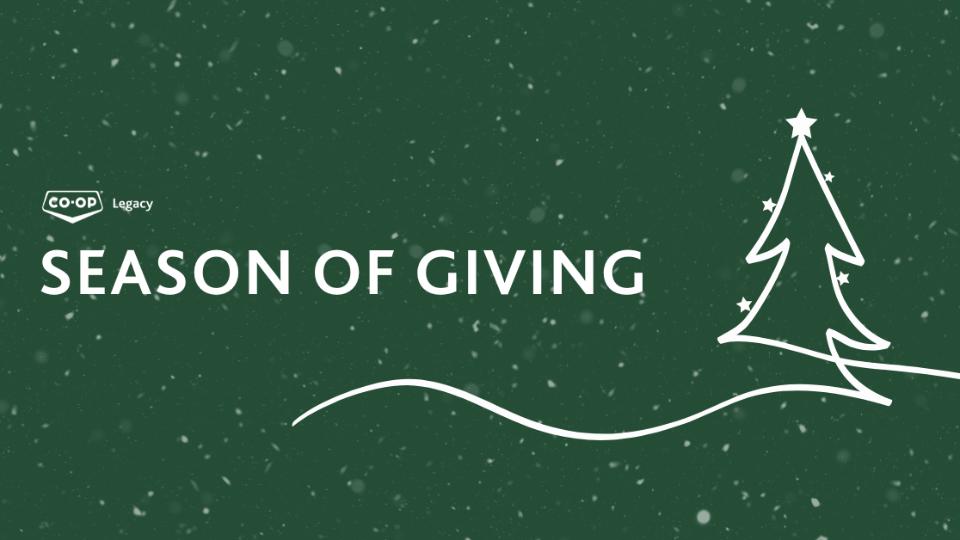 Season of Giving
December 1, 2020
This holiday season Legacy Co-op is focusing on giving back with our Season of Giving. Throughout November and December we are placing an emphasis on local and giving back to our communities, we will be assisting our communities through numerous giving initiatives and supporting our local businesses and charitable organizations.
We're proud to offer the following initiatives this Christmas.
Kids Shopping Day:
The Legacy Co-op Elves in partnership with the Plum Tree are helping children aged 4 to 12 with their Christmas shopping.
Sign your child up online for a half hour time slot, drop them off at The Plum Tree at their designated time and our Elves will help them shop for and wrap their gifts. Each child will also receive a $10 gift card for The Plum Tree.
Book your child's spot online by November 18, 2023 at https://bit.ly/LegacyKidsShopping
Sunday, November 19, 2023
10:30 am to 3:30 pm
The Plum Tree
Letters to Santa:

We invite all Kid's Club Members to write a letter to Santa, and drop it off in one of our special mailboxes in our Churchbridge, Kamsack or Yorkton food stores and we will ensure Santa gets them and writes you back.
Since Santa is so busy, he will need to have the letters sent to him by December 5, 2023.
Good Buy to Hunger:
Throughout the month of December we run our Good Buy to Hunger initiative, with donations accepted at our Yorkton, Kamsack and Churchbridge Food stores and C-Stores. This year's goal is $27,500! Proceeds from donations and every purchase of a $5, $10 or $20 food bag goes towards feeding the hungry in our surrounding communities.
This year's recipients include:
Bruno's Place, Yorkton
Shelwin House, Yorkton
The Salvation Army, Yorkton
The Soup Haven, Yorkton
SIGN Kamsack
CPS Snack Program, Churchbridge
For more information go to: https://www.legacyco-op.crs/sites/legacy/local/detail/legacy-co-op-good-buy-to-hunger
Adopt A Family:
At Christmas our teams help to bring cheer to families in need in our communities. Working with local organizations our teams have been matched with 14 families in our community, providing them with a wonderful holiday meal and gifts.
Gifts For Seniors:
Another fan favorite amongst our team, is the Gifts for Seniors campaign. This brings personalized gifts and letters of love to more than 300 seniors in the residential care facilities in the communities of Yorkton, Saltcoats, Kamsack and Theodore.
Working with the care home teams, Legacy Co-op donates funds to allow for the purchase of a personalized gift for every resident and written letter from the team. Our teams take great pleasure in hand delivering these gifts and spending time with the residents.
Anonymously Anthony

In partnership with Switzer's Home-grown Family Farm and Canadian Tire Yorkton Legacy Co-op sponsors ten trees with trimmings to the Anonymously "Anthony" Christmas Tree Program. Deadline for Applications & Nominations coming soon. Visit https://bit.ly/LegacyAnonymouslyAnthony for more information.