Retirement Announcement - Bruce Thurston
Actions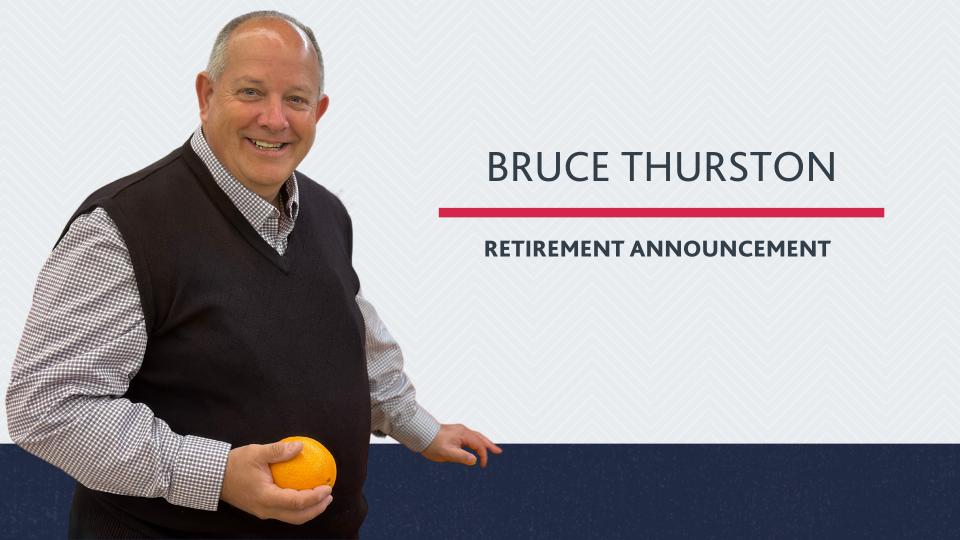 Retirement Announcement - Bruce Thurston
May 24, 2023
It is with mixed emotions that we are announcing the retirement of General Manager, Bruce Thurston.
Retirement notices are sometimes hard to accept and, in the case of Bruce Thurston's, that is certainly the case. During his time of service with Legacy Coop (formerly Yorkton Coop), Bruce has seen tremendous growth of the organization. He has been instrumental in guiding its success whether it be the addition of new facilities, joint agreements with neighbouring Coops, or amalgamations. His calmness and leadership skills while pursuing these projects has bode well for the Coop over the years.
As a community volunteer, Bruce has been recognized as Citizen of the Year for Yorkton and also awarded the Queen Elizabeth Platinum Jubilee Medal for community service. Whether it be delivering Meals on Wheels to local residents, serving on committees like Rhythm and Ribs, the Charity Road Race, Charity Golf Tournment, YBID, Snowarama, or working with the Soup Haven, Bruce's dedication to community has excelled.
After spending the last seventeen years as General Manager with Legacy Coop, we wish Bruce and Danita many happy and fulfilling years in retirement. I'm sure some of his hours of leisure will be spent golfing, fishing, whittling, and volunteering.
Clark Anderson
President, Legacy Co-operative Association Limited

General Manager's Retirement Message
In 1986, General Manager of Yorkton Co-op, Ron McClenaghan, called me and had a conversation with me. His words, and I remember them today, were "I don't want to just offer you a job, I want to offer you a career". Almost 37 years later, and after moving 6 times to various places across Western Canada, it's time to pass the torch to the next General Manager. The old saying that you can "never go home" once you leave is not true. After 15 years living in various communities in Saskatchewan and Alberta, I had the opportunity in 2006 to come home and manage the retail I used to buy bulk smarties at with the 47 cents I had in my pocket when I was a kid. Yes, I came "home". You can come home, it's just that all the kids I grew up with looked like their mothers and fathers.
Legacy Co-op has experienced significant change over the years and I am so proud of the staff, management and Board for the insight to see well into the future, and explore the possibilities and opportunities presented. New locations being built, numerous renovations and amalgamations over the years have grown our retail to more than $141 million dollars in revenue and one of the largest businesses in East Central Saskatchewan. Our team members know and understand we are in the "customer service" business. We just happen to sell food, petroleum and agro products as well.
As I announce my retirement, I think of all the various projects we have on the go and all of the opportunity for Legacy Co-op moving forward. Legacy Co-op is in great hands with a knowledgeable staff, top notch management and a Board of Directors that understand our business, and know how to take it to the next level.
In the course of more than 36 years, there are a ton of people who have helped mentor, coach, encourage and guide me through the years. Of course Ron was instrumental in showing me what the Co-operative Retailing System had to offer, and for that I am forever grateful. The numerous teams that I had to work with provided me not only knowledge, but friendships in communities all across Western Canada. The staff of our retail were so welcoming when I arrived in 2006. Our staff are a huge part of our success, and I thank them for all of their hard work and dedication over the years. The Board of Directors has seen numerous changes over the years and I was blessed to be able to work under long term President Gene Krepakevich. Our current President, Clark Anderson has built a strong team to lead and guide the retail moving forward, and the opportunities are plentiful. Finally, I want to thank the Yorkton community and members for all the support in being able to serve you as your General Manager for the past 17 years.
"I've learned that people will forget what you said, people will forget what you did, but people will never forget how you made them feel" – MAYA ANGELOU
Thanks for making me feel at home again.
— Bruce Thurston