Neighbourhood Fresh Modular Farm
Actions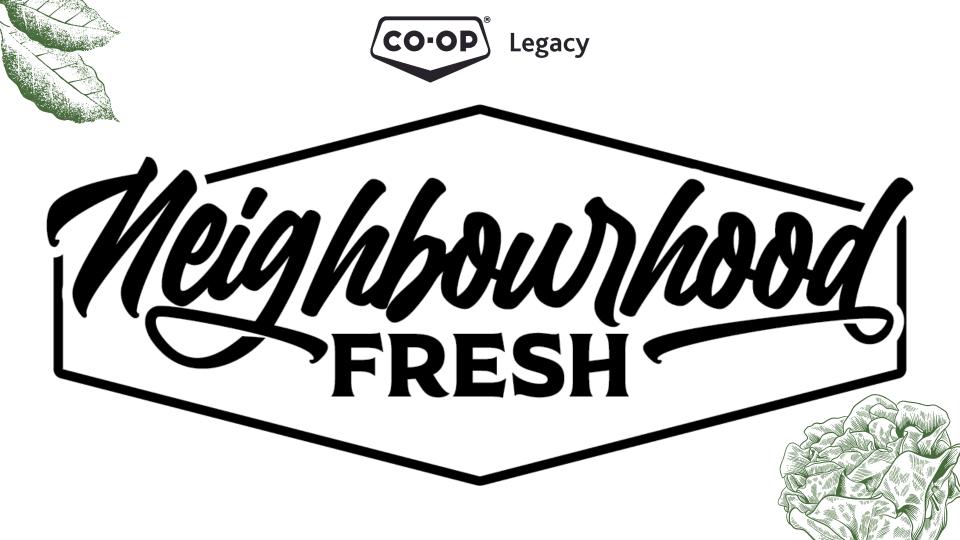 Neighbourhood Fresh Modular Farm
September 7, 2023
On Thursday, September 14, 2023, Legacy Co-operative Association Limited hosted a celebration for the grand opening of their Neighbourhood Fresh modular farm!

The event kicked off with welcoming remarks from Yorkton Mayor Mitch Hippsley. The crowd was treated to engaging presentations by integral members of the Legacy Co-op team, featuring Katie Hull, Finance Manager; Stew Winter, Produce Manager; and Board President Clark Anderson. Together, they shed light on the numerous advantages, sustainability, and the promising future of fresh produce Locally Grown in Our Backyard, mere steps away from the Yorkton Food Store. Following the presentations, Mayor Mitch Hippsley, Board President Clark Anderson, and Legacy Co-op representatives Katie Hull and Stew Winter came together to cut the ribbon, officially marking the grand opening of Neighbourhood Fresh.

Attendees had the opportunity to learn more about the project and gain valuable insights into the production process through interactive discussions with the produce team and informative display boards.

The decision to embark on this project and build a modular farm was inspired by a vision to provide members with fresh, high-quality produce all year round. The idea stemmed from Katie Hull, Finance Manager, who came across an article highlighting the possibility of growing fresh produce locally, even in the depths of winter. Katie shared her thoughts, saying, "As a Co-op, our core is rooted in our members and communities. We are built on the idea of being truly local. We strive to offer high quality products and services that bring value to our members." She added, "Naturally, Neighbourhood Fresh aligns with our mission. It's hyper-local and I love that it offers our community transparency and control over a portion of our food supply. It offers us the opportunity to give back to our communities, as any excess produce can be donated to those who need it most."

The first seed for Neighbourhood Fresh was planted on September 14 by Katie Hull, and the rest of the crops sown by the two produce technicians who will work in the farm. Stew Winter, Produce Manager shared the news, "This project creates meaningful employment with the addition of two produce technician positions." He continued, "Of the 140 crop varieties available for production we have chosen 14 for our initial crop including five types of lettuce, two choys, spinach, two varieties of kale and four herbs." Legacy Co-op anticipates harvesting the first crops within the next six to twelve weeks, with shoppers getting to purchase and enjoy the fresh produce on the shelves shortly after these initial harvests.
About Neighbourhood Fresh:
With the Neighbourhood Fresh modular farm, plants grow indoors through a soil-free farming method using nutrient-rich water. The produce is grown in a fully controlled environment to minimize risk of disease to the crop and allow for yearlong production with minimal waste. This uses less land and water and no synthetic pest control products while also cutting down growing time. Within six to 12 weeks from seed to harvest, locals gain access to fresh greens year-round. Not only does the produce last longer in the fridge, but it also supports sustainable, hyper local farming.
Key Features and Highlights:
Modular Farming Innovation: Legacy Co-op's Neighbourhood Fresh, developed in partnership with Growcer, introduces cutting-edge modular growing systems that optimize space efficiency while utilizing minimal water and soil resources.

Year-Round Production: The advanced climate control and LED lighting systems of the modular farm ensures consistent crop production year-round. Regardless of external weather conditions, this technology maintains optimal growing conditions, ensuring a reliable and uninterrupted food supply.

Sustainability at its Core: The modular farm incorporates sustainable practices, including efficient nutrient management, reduced pesticide use, and minimized transportation costs. These eco-conscious initiatives significantly reduce the carbon footprint traditionally associated with produce, aligning with Legacy Co-op's commitment to environmental stewardship.

Diverse Crop Range: Neighbourhood Fresh modular farm supports the cultivation of a diverse range of crops. From leafy greens to herbs, the farm's flexibility in crop selection ensures that the local community has access to a wide variety of fresh, locally grown produce.
Modular Farm Unit Details:
- Unit is custom built in Winkler, Manitoba
- Unit arrived on site in July
- Legacy Co-op partnered with local contractors for all necessary work for the unit on site
- Lifespan of 30 years, increasing self sufficiency of produce supply
- Expandable to additional units and crops
- Requires two water flushes per year, the nutrient rich water is stored in an underground holding tank, a partnership with the City of Yorkton will allow the City to use the water for green spaces, flower pots, and more.