Legacy Co-op Donates $14,500 to Parkland Search and Rescue
Actions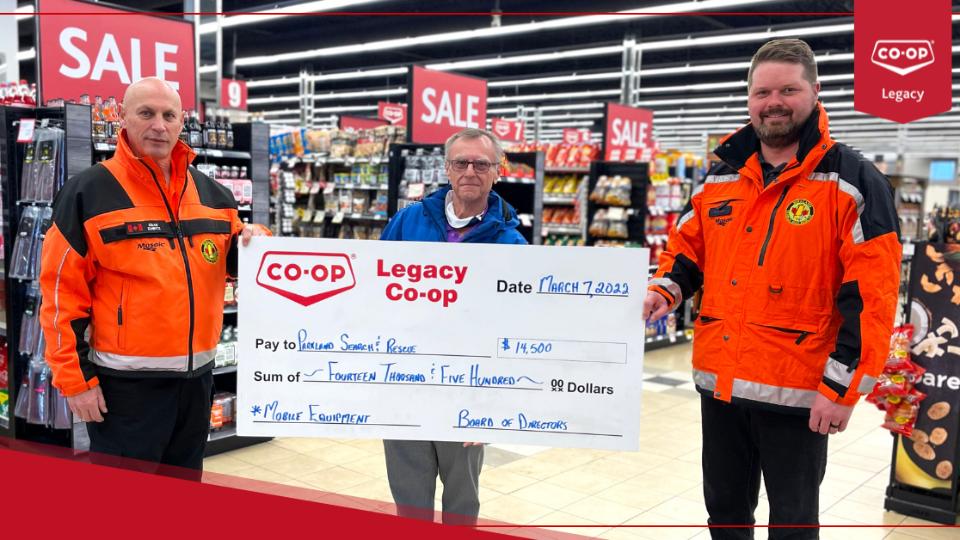 Legacy Co-op Donates $14,500 to Parkland Search and Rescue
April 1, 2022
Legacy Co-op announced a $14,500 donation to the Parkland Search and Rescue towards the purchase of a truck to assist operations.
"We are happy to support Parkland Search and Rescue in the purchase of the necessary mobile equipment with this $14, 500 donation," said Legacy Co-op Director Ken Chyz. "Legacy Co-op recognizes the need for organizations such as this that provide important services to our community, surrounding areas, and throughout the province."
A volunteer group, Parkland Search and Rescue does not receive federal or provincial funding and relies solely on fundraising for training, equipment, and facilities.
"A donation like this is huge for our group. We are expected to show up on an emergency scene with professional equipment and professionally trained searchers, and to buy that equipment, we need donations like this," explained Dustin Brears, Vice President of Parkland Search and Rescue. "Legacy Co-op came through in a huge way and this is the final push we needed, to be able to buy a truck now to support our group."
Parkland Search & Rescue is comprised entirely of volunteers who serve eastern Saskatchewan. Established in 2015, their mission is to support the RCMP, and Emergency Measures Organizations or designated authorities in their efforts to locate lost persons or assist in other related emergencies within our communities and in the province of Saskatchewan. Across the province, search and rescue is under the umbrella organization Search and Rescue Saskatchewan Association of Volunteers (SARSAV). It is the fourth emergency response team after police, fire, and ambulance.