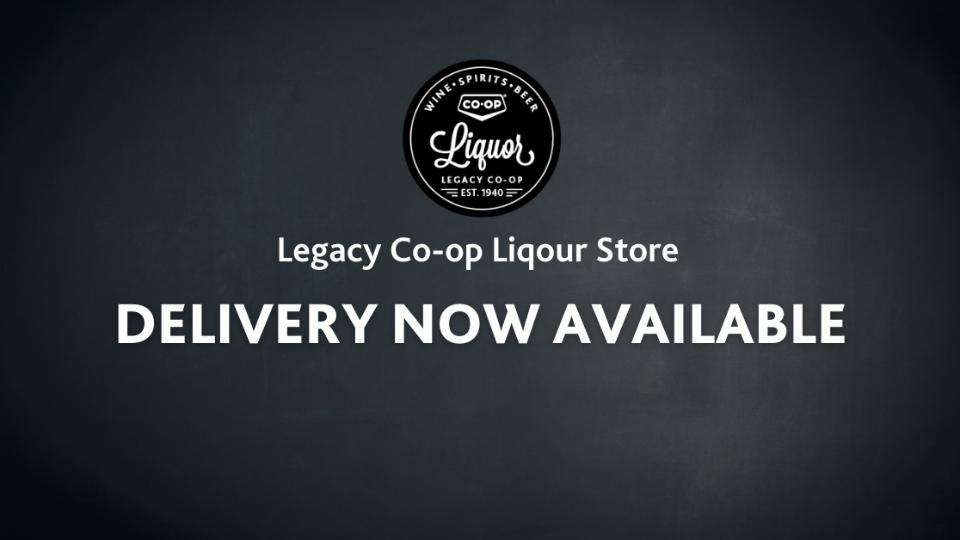 Co-op Liquor
December 31, 2020
Delivery Now Available!
Available Monday to Saturday from 9:30 am to 8:00 pm, and Sundays 10:30 am to 5:00 pm. No minimum order required, $5 fee per delivery.
📞 Call 306 783-3601 to place your order using credit or debit card.
Must be legal drinking age, government issued photo ID required upon delivery.
Looking for our latest flyer? Download it from the link below.
About Us

Legacy Co-op Wine, Spirits and Beer stores offer an excellent selection of popular and specialty liquor products, fine wines and cocktail ingredients. Open Monday to Saturday, 8am to 9pm, and Sundays and holidays 10am to 7pm.
Explore our large, well-stocked store with walk-in chilled areas and our selection of local Saskatchewan products.
Beers of the World - In the Cooler or Fresh from the Tap
Explore our large, well-stocked walk-in chilled beer areas where you'll find brews from around the world and a great selection from our local Saskatchewan breweries.
You can also enjoy beer crafted in Saskatchewan fresh from the tap. Our growler station offers an eco-friendly way to purchase local craft beer. Bring in your own 1L howler or 2L growler, or purchase a new one from us, choose a great locally made craft beer and one of our team members will fill your bottle. With our pressurized station, your filled growler stays fresh for up to 10 days.
Special Occasion Liquor Orders
Our customer service team will be pleased to recommend products and quantities for your special occasion. Please contact the Co-op Wine Spirits and Beer location near you for more details or email us at ykliquor@legacycoop.ca
Many events require a Special Occasion Permit (SOP). Permits may be purchased directly through the Saskatchewan Liquor and Gaming Authority (SLGA)
Commercial Liquor Purchases
Our service oriented team is here to serve! Please contact us at ykliquor@legacycoop.ca if you are interested in setting up ordering for your restaurant, bar or retail store.
Download our Current Flyer:
Discover more: