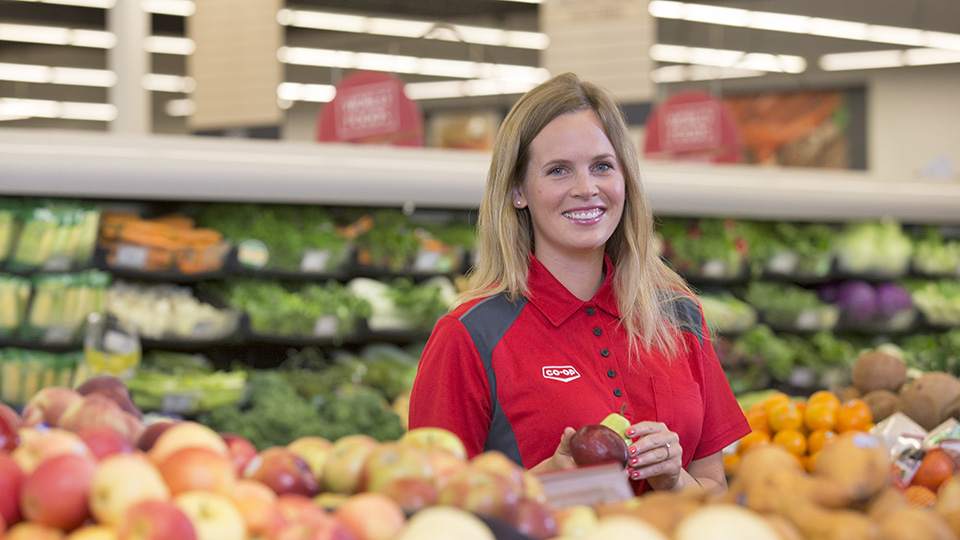 Co-op Food
September 18, 2019
Your local Co-op can meet your grocery needs, all while offering service with a smile! Visit us for a great selection of competitively-priced food products. We have a wide variety of national and store brand items.
Please see our Hours, Contacts and Location Info page for location details.
---
Meat

We pride ourselves in providing you with the highest quality fresh meats from Saskatchewan and Canadian producers. Our professional meat cutters are available to provide for your special needs. Choose from a wide selection of beef, pork, lamb or veal. Our selections of Country Morning Chicken and Prime Chicken are fresh and tantalizing. Treat your taste buds with our AAA beef, marinated beef and pork items, Terry's Shishliki and Ottenbreit's Sausage. Check out the full service butcher shop where we will custom cut what you want, all while you wait. We also have a modern smoker on site that allows us to create many different varieties of in-store made and smoked sausages, hams, turkeys and jerky. Other store-made products include: 4 types of burgers, meat balls, marinated chicken, our very own shishliki, stuffed mushrooms and kabobs. These items are exclusive to the Legacy Co-op Meat Department. Whether a dinner meal solution or catering a large function, stop in and see us at the Legacy Co-op Meat Department, the most experienced meat expertise in the Yorkton area at your disposal.
Groceries
Our recently renovated food centre offers the finest selection of grocery products for our customers. Check our weekly flyer in the mail or click on the Current Flyer tab on our home page. Come in and see what we have to offer at the Yorkton Co-op, where everything is FRESH, FAST & CONVENIENT. Our grocery staff is here to give you fast and friendly service. Whether you need your groceries delivered or just bagged and carried to your vehicle, we believe in making your life easy when you shop for groceries. Yorkton Co-op is committed to serving its members and we offer a delivery service that is available four days a week. For only $5.00 you can have your groceries delivered to your home on Tuesdays, Wednesdays or Fridays. For another $3.00, we'll have our staff shop and gather the items you need. Just call 783-8011 before 11:00 am and we'll take care of the rest.
Kamsack Food Store
We built a brand new 11,000 square foot Food Store in Kamsack. We offer a wide selection of groceries, a full service meat department, fresh produce, a modern deli as well as an in-store bakery. The Grocery department has a reverse-osmosis water filtration system on site offering some of the purest water in the area. Our Meat department is famous for their top quality fresh, in-store cut meats, outstanding customer service and its store-made products such as shishliki and marinated meats. Our Produce department carries a wide variety of fruits and vegetables. The department also offers fruit and veggie trays of all sizes. The Baker's day begins very early baking bread, buns and pastries while still offering commercially prepared products to fulfill your needs. Custom cake decorating is another value-added service that this department has to offer. Our Deli carries a good selection of deli-meats, hot chicken, daily meals, prepared salads, sandwiches and meat and cheese trays. We also have a good selection of cheese including many products you may not expect to find in a smaller centre. When we built the store, we installed a number of energy saving and environmentally friendly features including: LED and CFL lighting wherever possible; a dairy merchandise case with glass doors and a heat reclaim unit which takes waste heat from the compressors and use it to heat our warehouse. The Kamsack Food Store also offers a delivery service for a small fee.
Bakery
There is nothing better than the sweet scent of freshly baked breads and buns. It may be the delicious smell that first lures you to our bakery department, but when you try our sensational cakes, cookies, muffins, breads, buns and other baked goods, you'll understand why our bakery is the best in Yorkton. Get all of your festive treats from us. We offer a wonderful selection of seasonal and every day trays and goodies. We also have cupcakes to fulfill every occasion. Theme cakes are plentiful and with our cake imaging system, we can put your favourite picture onto any size cake. Just ask our expert staff and they will make it happen. We also carry a full line of cake kits with all of the popular characters of the day. Weddings, christenings, promotions, graduations, anniversaries or birthdays - our cakes are the icing of all the best days of your life. We make everything from dolls to dinosaurs, books to butterflies, insects to instruments. You name it and we will create and decorate a cake to celebrate it. Diana, our cake expert has years of experience and will make it "just right" for any occasion or event you are celebrating. We have a large selection of freshly baked cakes in stock each day, but if you want a particular style or theme, please call us or stop by to make arrangements. We bake many different varieties of delectable breads every day. For breakfast, lunch or dinner, our bakery experts would be happy to help you choose a bread that complements your menu. Our selection includes traditional white, wheat and whole grain breads as well as french breads. Stop in today and see what we have to offer. You won't be disappointed!
Produce
We provide the freshest products and a great selection, all at competitive prices. Our focus is on having the freshest produce, including local, western and Canada-wide growers (whenever possible and the products are available based on the season) and imported products based on quality, freshness, and availability. We carry the largest selection of ready-to-serve value-added produce and meal solutions in Yorkton. Our produce department is committed to giving you the best possible taste experience. Our buyers search the world for produce that meets our high standards of quality and flavour. Don't forget to check out our new organic produce section! If you are not satisfied, we will make it right with our Hassle-Free Guarantee. Stop by today for the very best and freshest vegetables, fruit, juices and other produce items, and enjoy our wide selection of delicious, healthy and nutritious products! You'll be glad you did!
Deli
Planning a party or getting ready for the big game? Come see us for all your deli needs. Looking for a healthy take-out option? Our deli department offers a wide variety of meats, cheeses, salads, sandwiches, trays and other prepared meals. Check out our soup and salad bar for a nutritious and inexpensive meal alternative. You can pick just the right amount for your family's needs. The selection is great, you won't be disappointed. We carry over 100 types of cheese including many imported varieties. To create a feast for your senses, simply choose cheese. Subtle or robust, buttery or tangy, crumbly or creamy, blue or white, cheese makes every occasion a celebration of good taste. And it's an easy, versatile essential for hosts in a hurry. Cheese as a main course, a palate teaser, or the tantalizing finale to a gourmet meal, your deli expert can help you make all the right choices. Choose something tasty today from our many varieties.
Co-op Food Store Brands
Co-op delivers high-quality products from a variety of national brands as well as our own private-label brands.
For information about our store brands, please visit our Store Brands website.

Discover more: