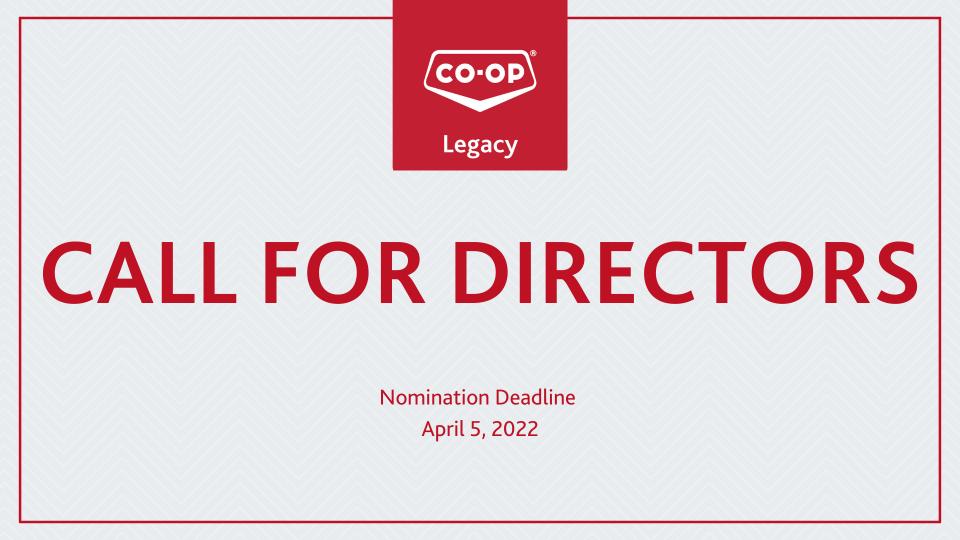 Call for Directors
March 1, 2022
Legacy Co-operative is seeking progressive, forward thinking individuals with a good understanding of the retail climate who would like to fill 3 vacancies on the Board of Directors in 2022. (Three 3 year terms)
In accordance with bylaw 6.02(c) the name of each nominee to the position of director must be:
Submitted in writing by the nominee to the Co-operatives Nominating Committee at least 30 days
before the date of the Annual General Meeting when the election will be held; and
Published by the Co-operative's Nominating Committee with the notice of the Annual General Meeting
Legacy Co-op is part of the Co-operative Retailing System that serves more than 600 communities and more than 1.9 million members across Western Canada. Today, approximately 160 retail co-operatives own FCL, which provides central wholesaling, manufacturing and administrative services to its member-owners.
Legacy Co-operative Association Limited boasts sales of more than $110 million and employs more than 250 employees. Sales outlets include a gas bar and food store in Kamsack, a food store and agro/home centre in Churchbridge, a cardlock and service centre in Theodore, an agro centre in Ebenezer, two gas bars, two cardlocks, an agro centre, a liquor store and a food store in Yorkton, cardlocks in Rhein, Esterhazy, and Langenburg and keylocks in MacNutt and Dubuc. We provide a variety of goods and services including: petroleum, food, lumber, general merchandise, crop supplies, feed, fertilizer, seed, bins and chemical.
Nomination papers can be picked up at any Legacy Co-operative Association Limited locations in Yorkton, Kamsack, Churchbridge, Ebenezer or Theodore, from any board member, from the link below or by contacting the following Committee members:
Clark Anderson
(306) 621-2739
Bill Prybylski
(306) 621-9244
Cordell Schaan
(306) 896-7702
All nominations must be submitted by 5:00 pm, April 5, 2022.
In person to the Legacy Co-operative Administration Office
30 Argyle Street, Yorkton, SK., S3N 3Z4
OR
Via e-mail to: info@legacycoop.ca RE: Board of Directors Nomination