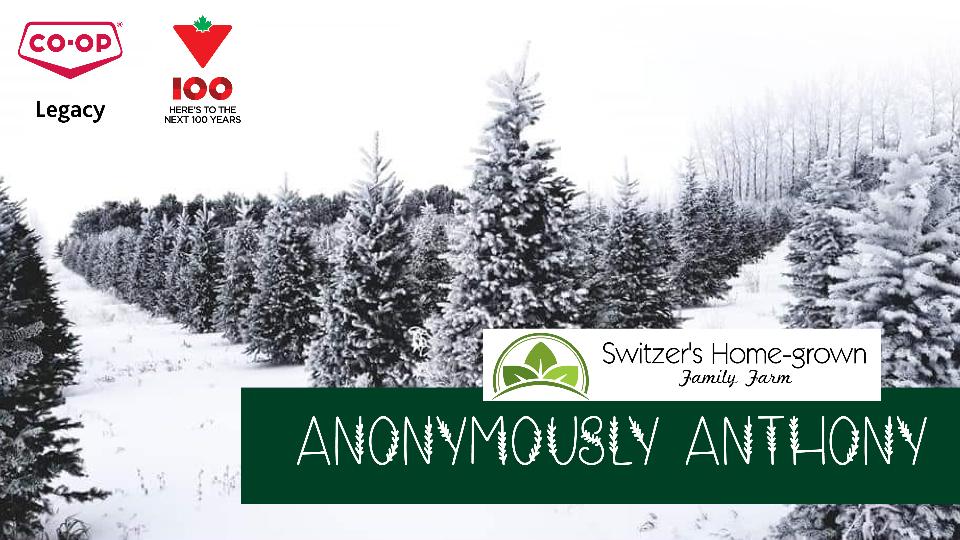 Anonymously "Anthony"
December 1, 2022
Legacy Co-op has partnered with Switzer's Home-grown Family Farm and Canadian Tire to enhance the Anonymously "Anthony" Christmas Tree program.
"Every year we are looking to expand our Season of Giving and what we give back to our communities." stated Jessie Huber, Legacy Co-op's Marketing Manager, "Switzer's Home-grown Family Farm's Anonymously "Anthony" Christmas tree program aligns with our core values, our community giving initiatives and existing Season of Giving programs; Adopt -A-Family, Gifts for Seniors, and Good Buy to Hunger."
Switzer's Home-grown Family Farm has run the Anonymously "Anthony" program for several years thanks to the generosity of an anonymous donor. The Christmas tree program provides a Christmas tree, stand, lights and a box of ornaments for families in need. This year, with the partnership of Legacy Co-op and Canadian Tire an additional ten Christmas trees are available through the program.
"We see the need in our communities and are very proud to continue on with the legacy that our Anonymously "Anthony" started years ago," says Suzy Switzer, of Switzer's Home-grown Family Farm. "The Christmas Tree program is for anyone who is in family or financial need, for newcomers and for those who need that extra bit of cheer."
Applications are open until December 9th, 2022.

Applicants are invited to send their submission, or nominate a family, by explaining in 150 words or less how being chosen for this program will help their family this Christmas, to isswitzer@sasktel.net.