National Day for Truth and Reconciliation
Actions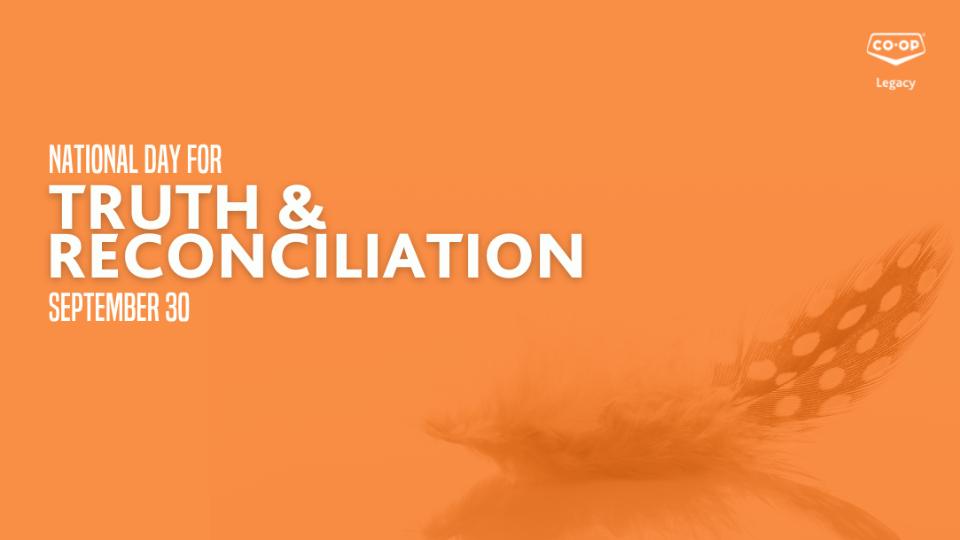 National Day for Truth and Reconciliation
September 24, 2021
In July 2021, the Federal Government announced the creation of a new federal statutory (STAT) holiday on September 30, known as the National Day for Truth and Reconciliation. The creation of this new STAT addresses one of the 94 Calls to Action from the National Truth and Reconciliation Commission.
Legacy Co-op recognizes the importance of this day as an opportunity for our Team Members and our community to take time to recognize and become educated on the impacts and harmful legacy of residential schools, and to find ways to participate in meaningful acts of reconciliation and healing.
Legacy Co-op will mark the National Day for Truth and Reconciliation by recognizing it as a STAT holiday across our organization. Our Admin office will be closed that day and our stores will be operating STAT hours, based on each individual location. We urge community members to attend the events that may be held in their various communities.
The following event will be held in Yorkton:
Yorkton Tribal Council Orange Shirt Day
10:00 am: Walk (YTC to City Park)
11:00 am: Opening Comments
12:00 pm: Lunch
Hours of Operation
Please note the changes in our hours for Thursday, September 30, 2021, National Day for Truth & Reconciliation
Legacy Co-op C-Stores and Gas Bars OPEN Regular Hours
Bulk Fuel Delivery CLOSED
Cardlocks OPEN 24/7/365
Legacy Co-op Food Stores
Yorkton OPEN 10am to 6pm
Kamsack OPEN 11am to 5pm
Churchbridge OPEN 12pm to 5pm
Yorkton Liquor Store 10am to 7pm
Legacy Co-op Agro & Home Centres
Yorkton Agro CLOSED
Churchbridge Home & Agro CLOSED
Theodore Agro 7am to 6pm
Ebenezer Agro CLOSED
Legacy Co-op Administration Office (Yorkton) CLOSED

1:00 pm: Indian Residential School Survivors "Stories of Resilience"

For additional information, opportunities to gain knowledge and to understand what steps you can take toward reconciliation visit the National Centre for Truth and Reconciliation at www.nctr.ca