Liquor Store - Proof of Vaccination Required
Actions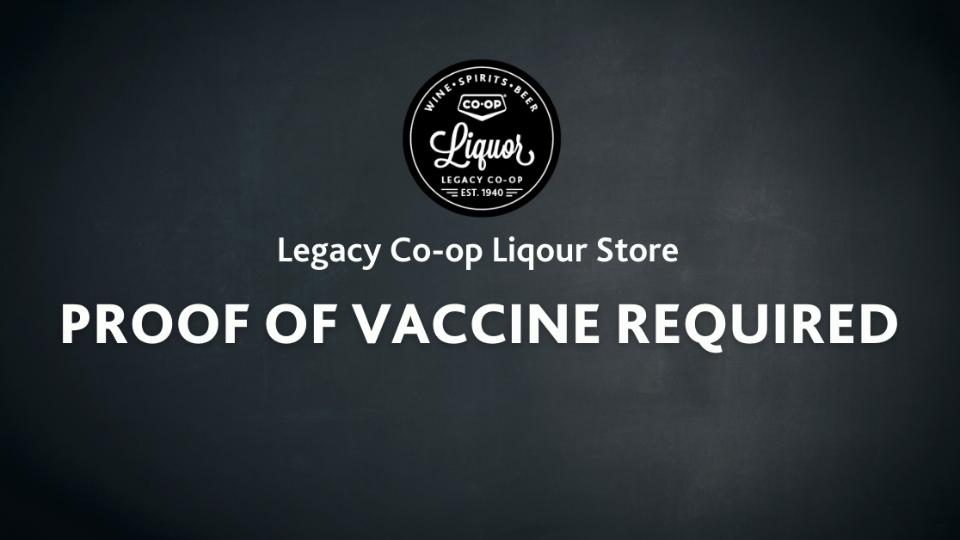 Liquor Store - Proof of Vaccination Required
October 7, 2021
In compliance with the Saskatchewan Government Public Health Order, effective October 1, Proof of Vaccination or a negative COVID-19 test result within 72 hours, is REQUIRED to enter the Legacy Co-op Liquor store.
But the Liquor Store is attached to the grocery store, and the Public Health Order says that's exempt?
Even though Legacy Co-op Liquor store is attached to the food store it is designated as a standalone liquor store by SLGA and as such must follow the Public Health mandates.
What is considered proof of vaccination?
Acceptable proof of vaccination includes:
Wallet cards received at time of immunization
A printed copy of a MySaskHealthRecord (MSHR) vaccine certificate (with or without a QR code)
A screenshot of a MSHR vaccine certificate (with or without a QR code) saved to your device
An earlier version of your MSHR COVID-19 vaccine certificate
A COVID-19 vaccine printout from Saskatchewan Health Authority Public Health
A QR code/MySaskHealthRecord vaccine certificate uploaded to SK Vax Wallet
Adults are required to provide you with photo ID that matches the vaccination certificate. Youth aged 12 to 17 attending with an adult must also have a vaccine certificate and ID (photo ID not required.
Individuals who do not have proof of vaccination have the option of providing proof of a negative COVID-19 test result from within the previous 72 hours. A self-administered take-home rapid antigen test will not be accepted as valid proof of negative COVID-19 results.
What's the process and what about those who are unable to meet the requirements?
Before entering the Liquor Store you will be asked to present your proof of vaccination and photo ID. If you cannot meet the above requirements, then you will be asked to visit us again when you can or we can assist you in placing an ordering through our curbside pickup service.
We understand this is frustrating and inconvenient for our members and customers, and apologize for the inconvenience. Our curbside pickup is available as an option for all shoppers. To place an order for pick-up please call 306 783-3601
Please remember, this is not a decision made by our Team Members. If you are unhappy with the Public Health Order please do not take it out on our Team Members. Legacy Co-op will not tolerate violence, threats, or harassment. Our Teams are working hard and doing our best to accommodate both vaccinated and unvaccinated members and customers in order to continue to serve you. A failure on our part to implement and adhere to the Public Health Order may result in fines and closure.
Visit the Government of Saskatchewan Public Health Order for Proof of Vaccination
Thank you for your patience as we work SLGA and the Government of Saskatchewan to implement the new health order.