Legacy Co-op Pumps up the Community!
Actions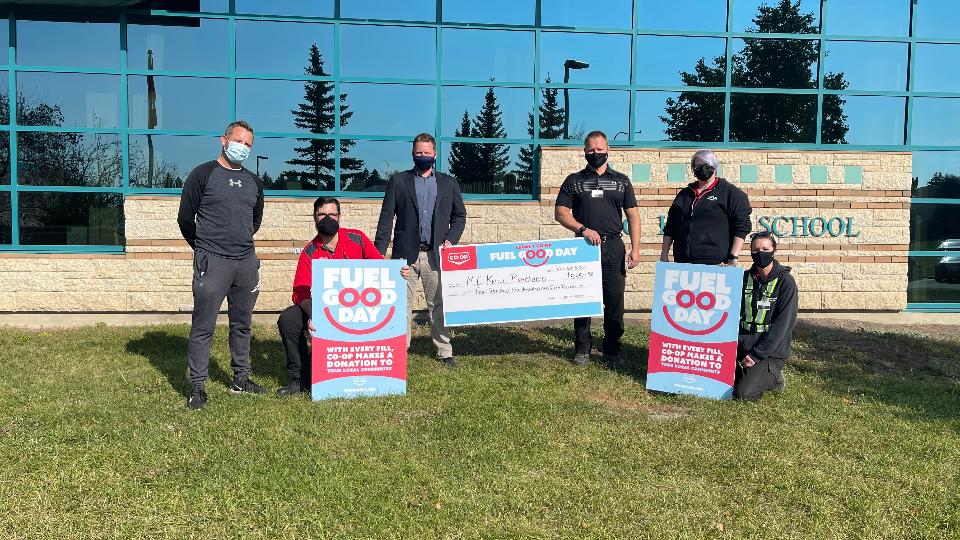 Legacy Co-op Pumps up the Community!
October 9, 2021
YORKTON (OCTOBER 8, 2021) — Legacy Co-op members and customers recently pumped up the community.
Thanks to your support, Legacy Co-op has donated $5,650.50 to M.C. Knoll Playground as part of Fuel Good Day on Sept. 21. During the day 10 cents from every liter of fuel purchased at the West Broadway and Palliser Way C-Store locations in Yorkton; the Churchbridge Home & Agro Centre, the Theodore Gas Bar and Kamsack C-Store was donated to the organization.
"As a locally owned and operated business, we're proud to give back and get behind local initiatives that are working to address the needs of our community," said Richard Burym, Petroleum Division Manager of Legacy Co-op. "Our team members are integral to the success of Fuel Good Day. They understand the impact on local community initiatives, and they truly made the difference meeting the demand."
"Thank you to the Yorkton Terriers and the Secon Maulers for joining us and supporting the event and thank you to our members and customers for the support you've shown during Fuel Good Day. It's amazing to see what we can accomplish when we all work together."
M.C. Knoll School have committed to creating a revamped and creative playground area for students, families, and the greater community. Over the last 20 years, elements of the playground have become worn out. This includes the 3-6 playground which became unusable for students in 2019. The School Community Council is working hard to replace that playground, repair the K-2 playground, add new basketball hoops, support the re-paving of the tarmac, and add new and creative items to the space.
"This project is all about promoting the concept of community, in our school community and supporting Yorkton at large, and the playground is one part of that," said Phil Adams, Principal of M.C. Knoll. "Our hope is that we have the absolute best possible outdoor experience for students and for anybody that would use our playground in the evenings and on weekends, and this donation from Legacy Co-op Fuel Good Day will continue to add to the project and realize our dream."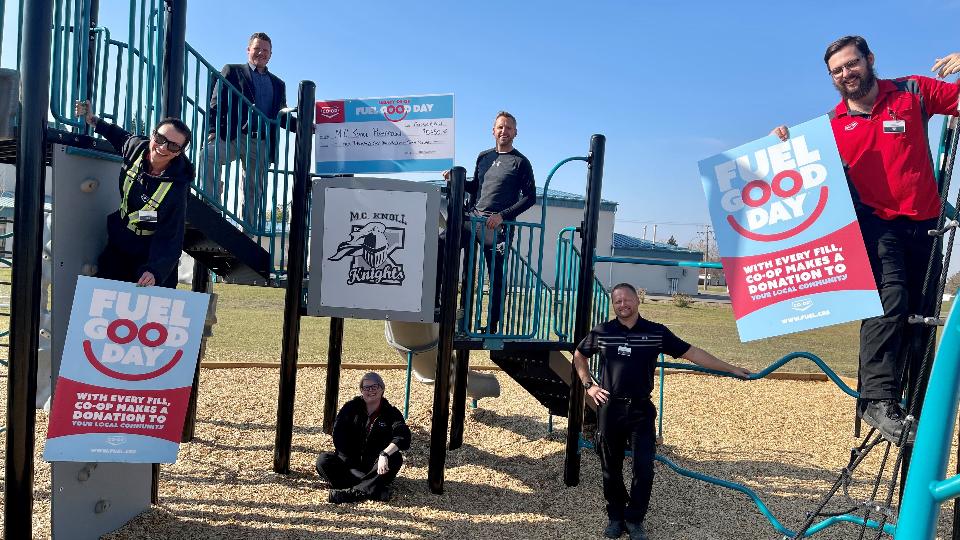 Legacy Co-op Presents a Cheque to M.C. Knoll Playground
(L to R) Samantha Hall - W. Broadway C Store Manager, Phil Adams - Principal M.C. Knoll, Amber Severson (sitting) – Kamsack C-Store Manger, Mark Schendel - M.C. Knoll, Richard Burym- Petroleum Division Manager, Dillon Zolkavich – Palliser Way C-Store Manager

Fuel Good Day was celebrated at about 400 Co-op Gas Bars throughout British Columbia, Alberta, Saskatchewan, Manitoba and northwestern Ontario, with each local Co-op supporting a community organization or initiative.
Last year, Co-op locations across Western Canada donated over $566,000 from Fuel Good Day, with nearly $2.4 million donated to more than 600 local charities and non-profit organizations since 2017.

The total result from across Western Canada for 2021 will be released in early October and will be available on www.fuel.crs, along with the complete list of supported organizations.

Discover more: