Legacy Co-op Donates $100,000
Actions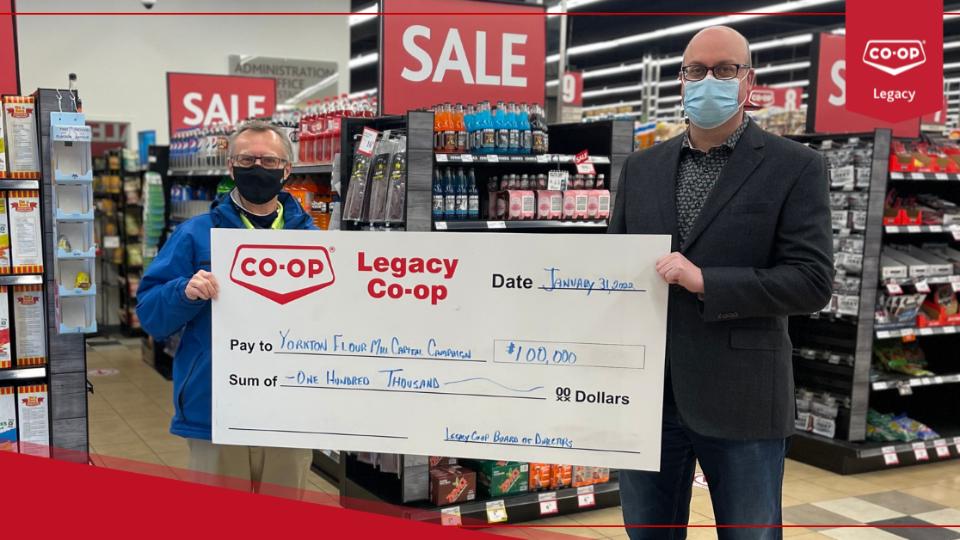 Legacy Co-op Donates $100,000
February 4, 2022
(Feb. 3, 2022) – Legacy Co-op is pleased to announce the donation of $100,000 towards Yorkton's Historic Flour Mill.

"As part of our community donations and sponsorship programs, the Board of Directors have approved a $100,000 donation/sponsorship for the naming rights of the Event Centre in the new structure being built", stated Bruce Thurston, Legacy Co-op's General Manager. "We are very much a community minded business and this fits well with our guiding statements to build stronger communities", continued Thurston.

The $100,000 will secure naming rights to the large event centre for 5 years once the building is complete.

Terry Tyson, Fundraising Chairperson for Yorkton's Historic Flour Mill, stated that "Legacy Co-op is a huge supporter for every large project going on in Yorkton and surrounding area, and we are pleased to have them on board with our project."
Sales for Legacy Co-op topped $110 Million dollars in 2021. As a regular business in the Top 100 Businesses in Saskatchewan, Legacy Co-op came in at # 53 in the 2020 listing.

"It's a difficult time to raise large donations for projects this size", said Thurston, adding that "this is the time for businesses that can, to step up and help out".
Discover more: