Legacy Co-op Churchbridge Grand Re-Opening
Actions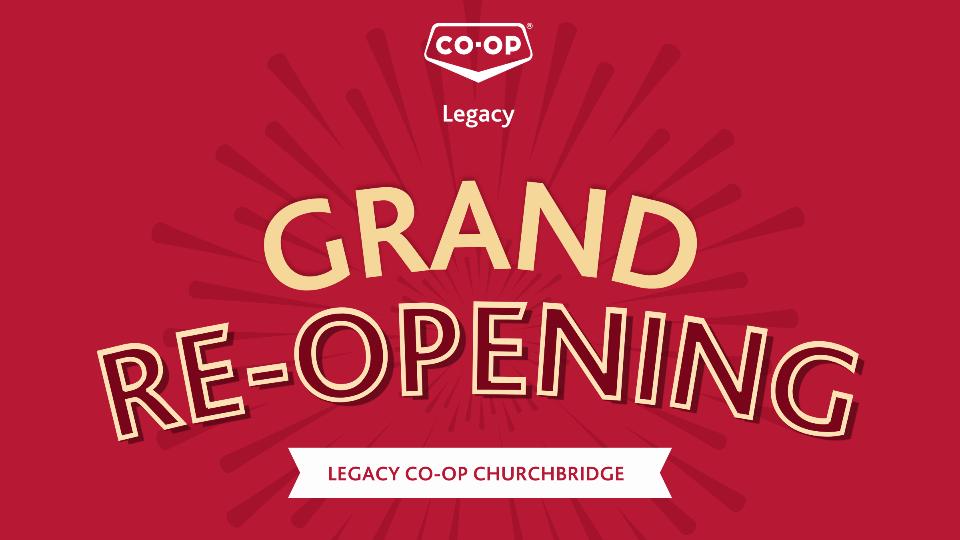 Legacy Co-op Churchbridge Grand Re-Opening
November 2, 2022
Celebrate the Grand Re-opening of the Legacy Co-op Churchbridge Home & Agro Centre and the Legacy Co-op Food Store on November 9th.
Schedule of Events:
11am Ceremony
Opening Remarks
Speeches
Ribbon Cutting
Lunch — Chili & a bun (available until 2pm)
Enter to win a Pit Boss BBQ Smoker and take advantage of the in store specials and product tastings at the Food Store and special pricing on items at the Home & Agro Centre.
Meet the fuel team, check out the bulk fuel delivery truck and see the new space.

It's the Grand Re-Opening of Legacy Co-op's Churchbridge Food Store and Home & Agro Centre. New fixtures, new décor and new energy efficient products. All invested back in the community using local contractors, that's an injection of close to $2 million to the local economy. Come in to see the new look, chat with our teams and take advantage of all the Grand Re-opening specials.