Legacy Co-op Annual General Meeting 2021
Actions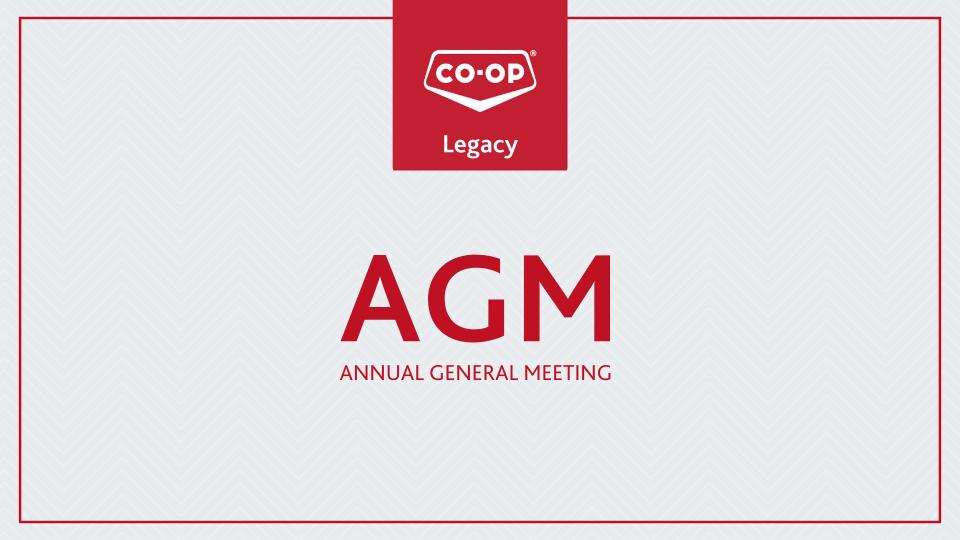 Legacy Co-op Annual General Meeting 2021
June 23, 2021
The Legacy Co-operative Association Ltd. Annual General Meeting will take place:
Thursday, 22 July 2021 | 7:00pm | Gallagher Centre, Yorkton, Sk.
Agenda:

All business to come before an Annual General Meeting including:
Call to Order
Board of Director's Report
General Manager's Report
Auditor's Report and Financial Statement
Proposed Bylaw Changes
Appointment of Auditors
New Business
Adjournment
Motions to Put Forward at the Legacy Co-op Annual General Meeting

Notice of bylaw change: bylaw 3.02 to read:

Approval of Membership
3.02
A person may become a member of the Co-operative by:
a) Submitting a written application for membership or;
b) Completing an online membership application, utilizing a check box consent for signature and submitted via
Legacy Co-op's website.
c) And the said application has been approved by the Board of Directors
Notice of bylaw change: bylaw 4.01 to read:

Place of General Meetings
4.01
(a) General meetings of the Co-operative shall be held at such locations in Saskatchewan and in the trading area
of the Co-operative, as may be determined by the Board of Directors.
(b) Directors may participate in committee or Board meetings by telephone, electronic or other means. All
participants, however, must be able to communicate adequately with each other. Directors participating in such
meetings are deemed to be present at the meetings.
(c) The Board of Directors may call an Annual General Meeting or General Meeting of the members using
electronic means provided all participants are able to communicate adequately and are able to vote on motions
and elections. All attendees in such meetings are deemed to be present at the meetings.
The Nomination's Committee would like to bring forward the following names for election to the Board of Directors of Legacy Co-operative Association Limited:
Clark Anderson, Retired Farmer
Judy Charney, Self-employed
William Prybylski, Farmer
Cordell Schaan, Farmer