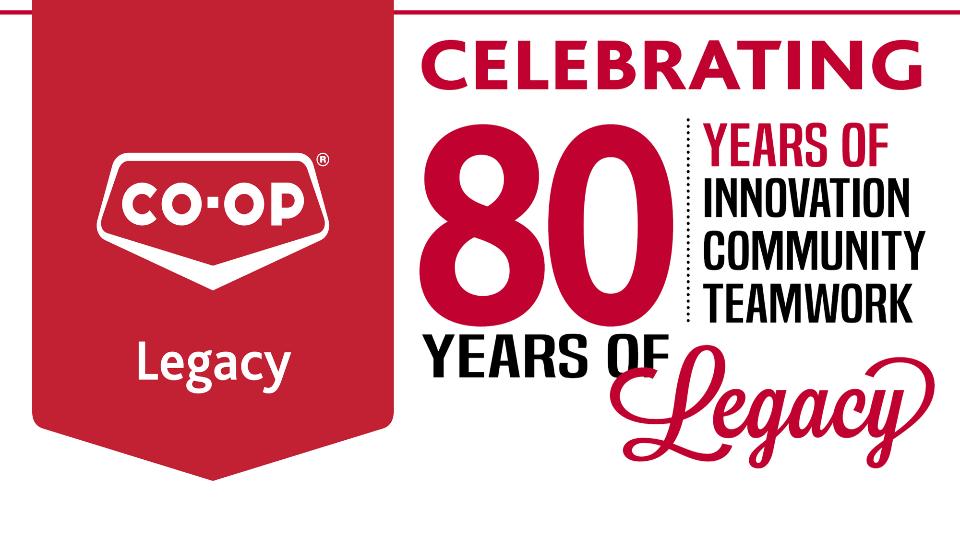 Celebrating Legacy
March 19, 2021
Shop & Win Contest Update:
We're extending the deadline for our Shop & Win contest.
You now have until April 7th to get your entry code to win car washes for a year, gas for a year and groceries for a year. Get yours now when you make an $80 purchase at any Legacy Co-op store.
Upload your entry by April 11th or drop it in the mail by April 12th.
This March we are celebrating what makes us the Legacy Co-op we are today; 80 years of teamwork, community and innovation.
Throughout March and April we will be looking back at the history of Legacy Co-op, the changes we have seen and it's impact in the community. We will be recognizing the history, the milestones, the contributions, and the people!
Of course, we can't celebrate Legacy Co-op without first thanking our Members, and to do so we are giving our Members a chance to win Car washes for a Year, Gas for a Year and Groceries for a Year. All that Members need to do is spend $80 at any Legacy Co-op, complete the online form and upload their receipt. The fun doesn't stop there, we will have more chances to win various prizes through our social media channels and with our media partners throughout March and April.
Finally, we want our Members to share their Legacy story with us! We are compiling stories, photos, memories and moments from the past 80 years and we want your input. Tell us what Legacy Co-op means to you and your submission could win a prize and be included in our advertising and history book.
Not A Member? Become a Legacy Co-op Member in March and you will receive a $20 Co-op Gift Card in your New Membership package. Visit any Legacy Co-op location to become a Member.
Do you know someone who should become a Member? Refer them to become a Member and when they sign up you will receive a $10 Co-op Gift Card in the mail. Make sure you provide your friend with your name and Co-op number to get your gift card.
Click here for the Celebrating Legacy: Shop & Win Contest
Click here to Be Part of the Legacy: Share to Win Contest
Contest Rules & Regulations