Be Part of the Team - Why Legacy Co-op
Actions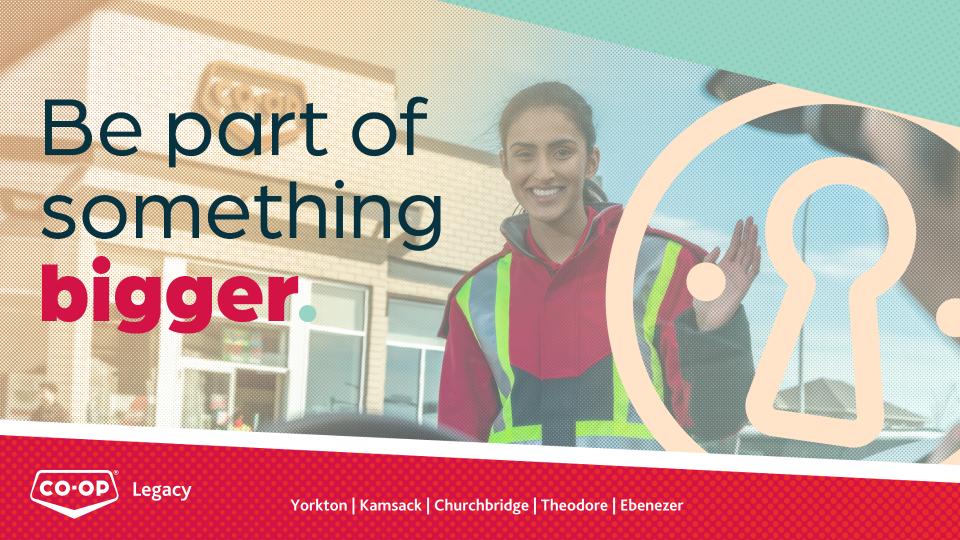 Be Part of the Team - Why Legacy Co-op
October 17, 2022
Be part of something bigger. Unlock your future with Legacy Co-op.
A career with Legacy Co-op is an opportunity to be part of something more—an exciting team working together, connecting with local people, and giving back to your community. No matter your career aspirations, Legacy Co-op offers a range of careers, summer employment, and co-operative education placements with options for movement and advancement. Work directly with customers or help behind-the-scenes in day-to-day operations.

At Legacy Co-op our team members are a part of our communities and help create and share meaningful experiences every day – for our members, customers, and for each other. We're here for the Parkland; and we're here for you.
Here For You
We support your development, fostering a culture of teamwork and innovation, by encouraging team members to take advantage of learning opportunities. There is a range of leadership development, co-op student placements, summer student placements, scholarships, and education assistance.

Legacy Co-op is committed to building a workplace culture of wellness where employees can thrive – emotionally, financially, socially, and physically. Safety and employee health are an integral part of our business. Our team members have the right to a safe working environment, and we promote a positive culture through safety programs and training.

We embrace diversity and inclusion and we're working to create workplaces that are as diverse as the communities we serve. Legacy Co-op values all employees and offers a sustainable and competitive total rewards package which includes competitive base salaries, a comprehensive benefits package, and an employer-contributed pension plan.
We offer both full-time and part-time positions that can take advantage of:
Flexible schedules to accommodate personal needs
Competitive wages
Time-off benefits, including paid vacation and sick days
Comprehensive benefits package including dental plan, extended health care, group life insurance, long-term and short-term disability insurance
Pension plan with matching employer contribution
Education assistance and scholarship programs
Employee and Family Assistance Program
We are invested in our team members as they are a key part of our business, serving the needs of Legacy Co-op members and customers.
Your Co-op Career
Legacy Co-op invests in its team members and supports their professional growth, development, and success. Team members can advance to positions of greater responsibility with experience as well as internal and external training opportunities.

Training seminars and programs are available to team members at all levels. Specific internal training programs include:

Student programs:

Provides summer employment or co-operative education placements to students in diploma or degree programs to support their career development and prepare them for future opportunities.

Management programs:

Provides mentorship opportunities, training seminars and hands-on experience to manage the operations for a department or the entire co-operative association.

To help reach their career and educational goals, team members may qualify to have 75 per cent of their tuition reimbursed upon successful completion of an approved program.

The Co-op story is made up of many events and experiences. Our team members help create and share meaningful experiences every day – for our customers and for each other.

Be part of an exciting team working together, connecting with local members and giving back to the community. No matter your career aspirations, Legacy Co-op offers a range of careers from entry-level positions through to management, with opportunities for advancement.
And if you have a Co-op number, you're more than a team member – you're an owner.

There are opportunities to advance at your local Co-op and other Co-op locations of the entire Co-operative Retailing System across Western Canada. There are also career possibilities at Federated Co-operatives Limited, the co-operatively owned wholesaler and manufacturer for all local Co-ops. Learn more about Co-op
What type of experience do I need to work at Co-op?
Opportunities at Legacy Co-op exist for a range of experience levels. Some positions don't require any previous experience, while advanced roles do require specific skills, abilities, and experience. The one thing that all our team members have in common is a passion for helping others.

What opportunities exist for advancement?
Career paths are often determined by your desires, and we're dedicated to helping you advance through training and professional development opportunities. Positions with increasing responsibilities are available at every location.

How can I apply for a position with Co-op?
Apply online to posted jobs under our current opportunities.
Want more information?
Send an e-mail attention HR to info@legacycoop.ca